Start moving and living life without pain
If joint pain is stopping you from doing the things you love, let's get you moving.
Relief from arthritic pain
Recover from sports injuries
Improve uric acid levels
In Stock

- Dispatched within 24 hours. (Mon - Fri)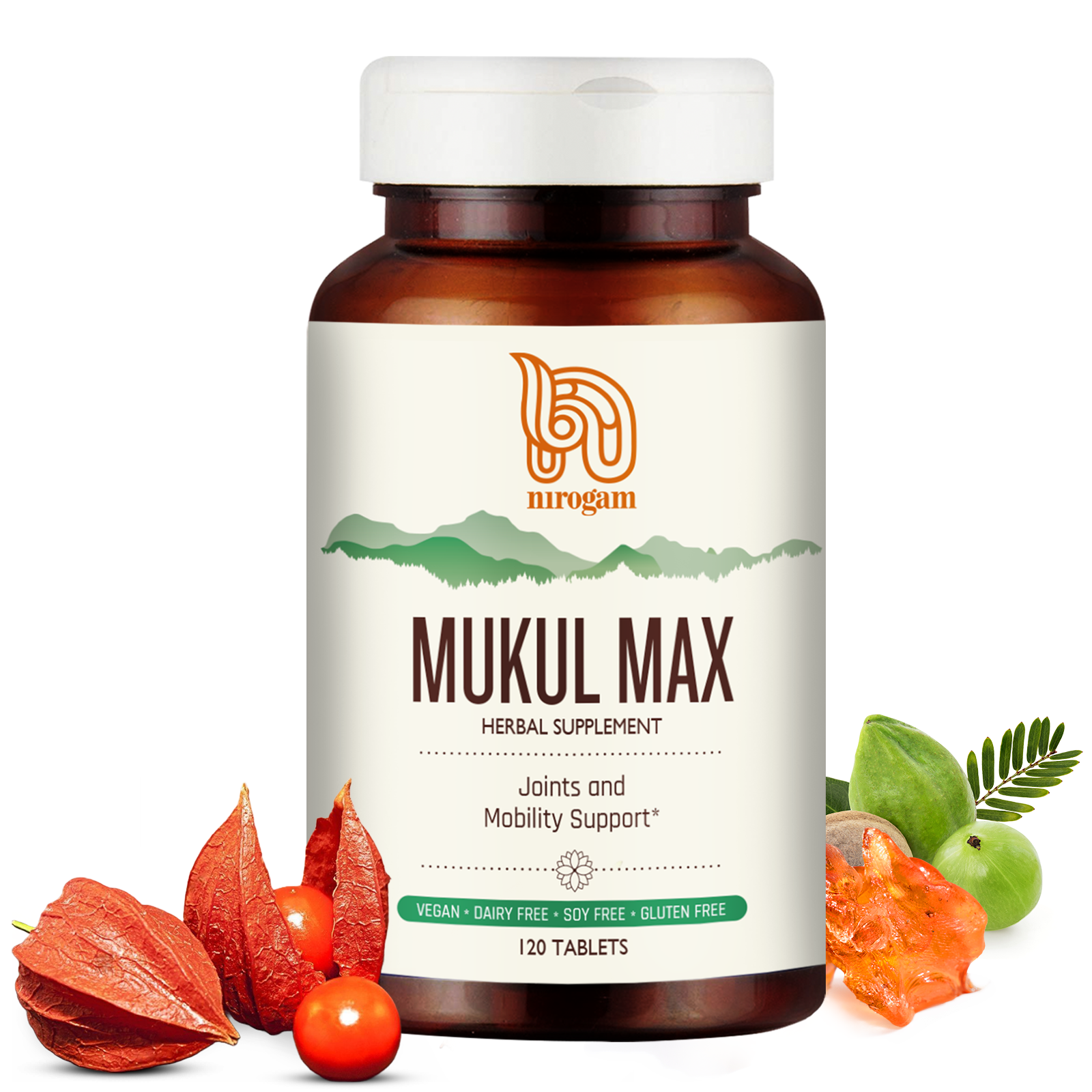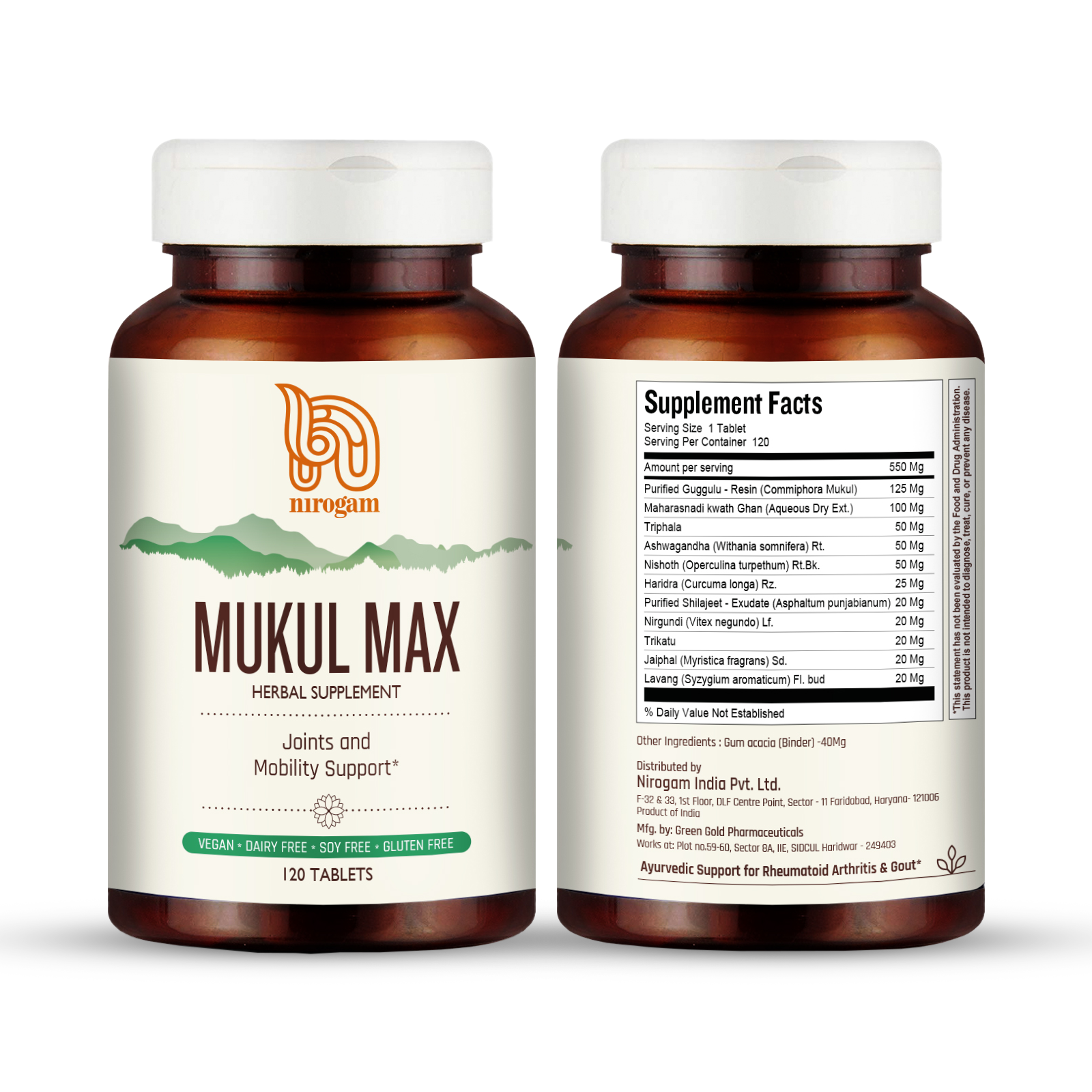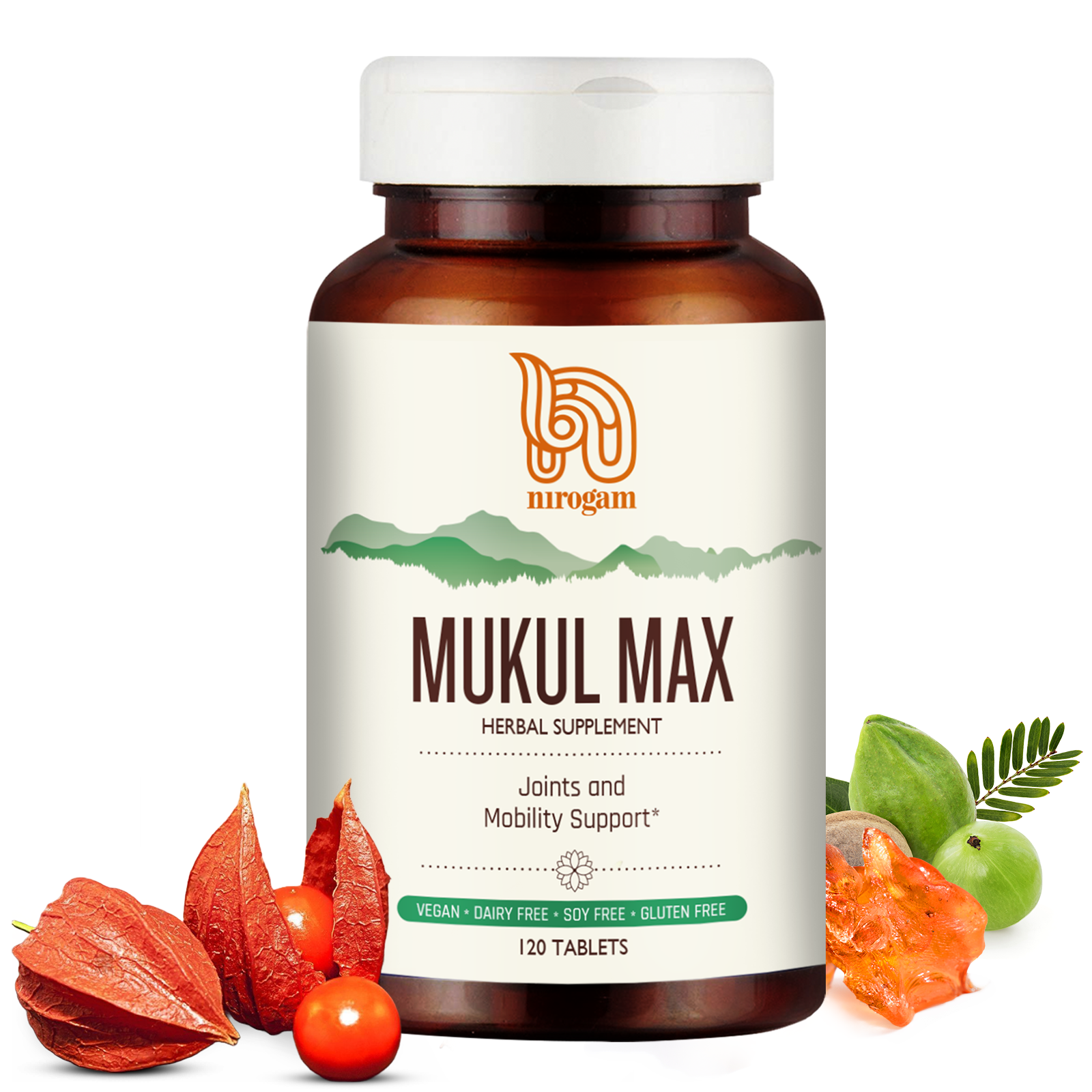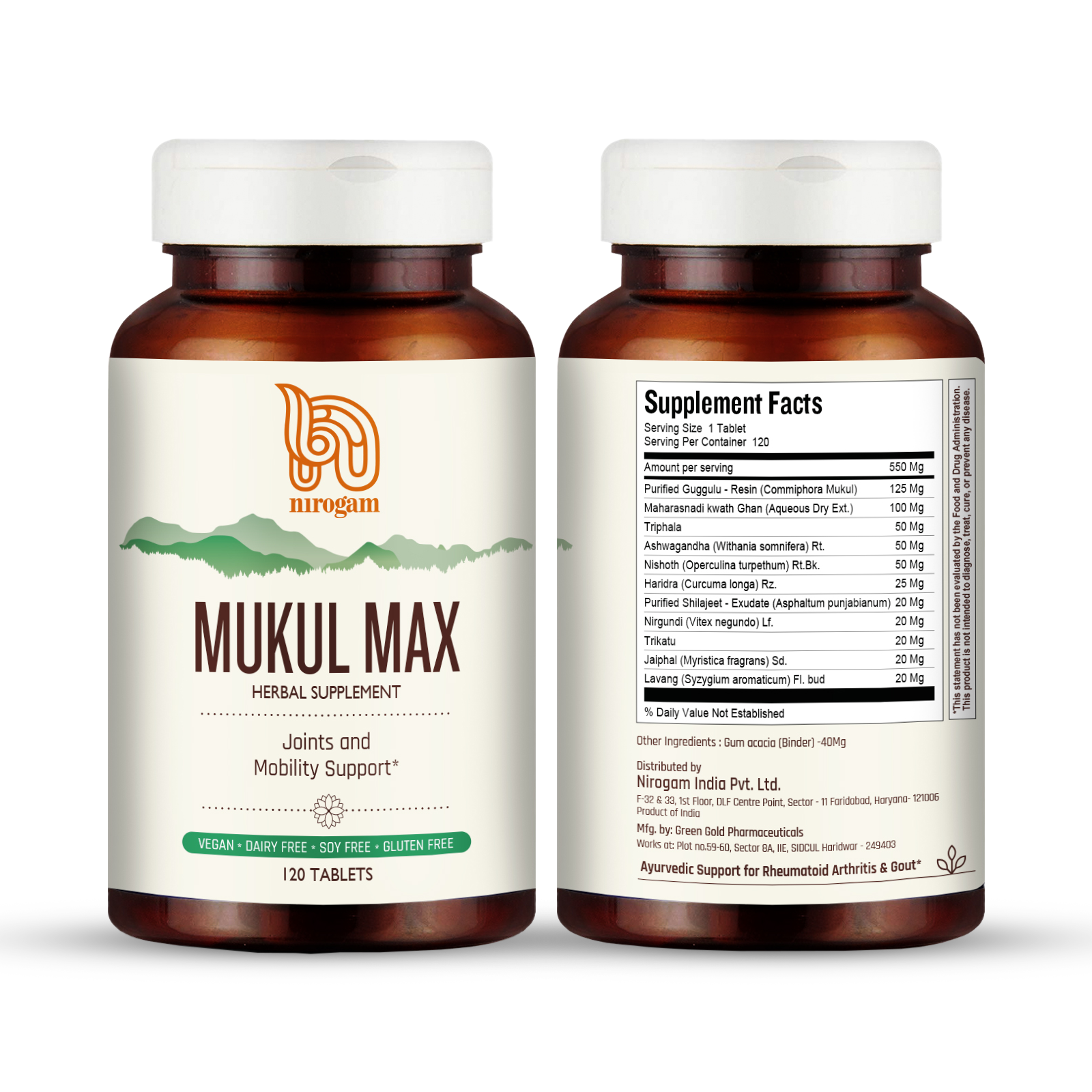 The pain in my leg is gone!
Helpful for uric acid. It helped reduce my joint swelling!
— Kinny
Good quality and and amazingly effective!
— Seuli B
My uric acid levels actually got too low! 🤣
— Renuka K.
Joint pain can really hold you back
Beyond discomfort, joint pain can greatly reduce your mobility and can result in:

Lack of
independence

Reduction in your
vitality

Less motivated to
exercise

Lower
happiness

Less
socialization

Poor
bone health
And it can even make it harder to enjoy your favorite foods because of joint pain diet restrictions
Mukul Max helps you:
Reduce joint
pain

Improve uric
acid levels

Increase
mobility

Reduce
inflammation
So that you can get your health, body and life back.
Order Now
Let's learn more about why Mukul Max is so effective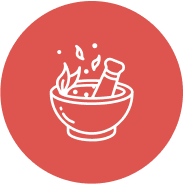 Operculina turvethum detoxifies
Its effect is detoxifying, so it releases the toxins, pacifies Vata, strengthens the liver, and improves acidity and inflammation.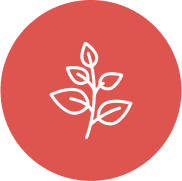 Maharasni kwath ghan rejuvenates
The only Ayurvedic supplement known to use Maharasni kwath Ghan -which is a classical preparation of 26 Ayurvedic herbs that work to reduce stiffness, rejuvenate joints, and improve cartilage health.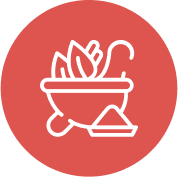 Guggulu & nirgundi relieves pain
Fast-acting, Guggulu and Nirgundi have pain-relieving properties due to their potent anti inflammatory effects and help in the rejuvenation of joints and muscles.
Mukul Max has been third-party tested for ultimate purity, quality and safety
If your supplement isn't pure or lacks potency, how will you get well faster?

No artificial colors

Tested for 30 different pesticide residues

No physical contaminants

No heavy metals
DOWNLOAD THE FULL TEST REPORT
More happy reviews
Very helpful for uric acid. It helps reduce joint swelling .
My mother has had terrible knee pain over the last few years.

I was recommended Mukul Max and I bought it for my mother. Within weeks she was able to climb up stairs with much less pain. Now 6 months later, she goes regularly for long walks in the park....she says her knee pain is down by nearly 70%.
My mother's terrible knee pain has reduced
RK
It is good quality and amazing tablet really effective.
HERE'S THE THING:
We are told to accept that getting older means giving up the life we love.
Once joint pain starts taking over your life, it can keep you from doing the everyday activities you take for granted.
Playing with your grandkids.
Going out to meet friends.
Going out for long walks.
Living a life free from pain.
It doesn't have to be that way. Mukul Max's proprietary formula is designed to ensure that you don't have to give up the life you love.
Order Now
Yes definitely feeling good and
a lot more confident.
I had severe joint pains for the last 3 years, especially in winters. I tried acupuncture, other Ayurvedic remedies, over the counter pain relievers and arthritis meds. None provided long-lasting relief. At one point my knee pain was so severe that my knee joints made a cracking sound. Now for the last 5 months I have been having Mukul Max and my joint pain has vastly reduced. Within a couple of weeks of starting it, I was able to climb up and go down the stairs with ease and within 4-5 months I began going for long walks in the mornings for many kilometers..yes definitely feeling good and a lot more confident, thanks to Mukul Max.
~ Renuka, India
3 steps to regaining your independence
How to ensure that you get the most out of your Mukul Max
01
Take 1 or 2 tablets twice
per day
02
30 minutes before Breakfast and Dinner with warm water
03
Start living the lifestyle
you deserve
Your mobility is everything. You don't have to accept the limitations from joint pain. Start living a pain-free life today.
Order Now
Finally,
a joint pain supplement that didn't irritate my stomach
Was little skeptical to try this, but it demolished all my doubts. Treated my joint inflammation within 2 months and I feel really healthy.
~ Ross H, USA
Still have questions?
Here are a few commonly asked ones about Mukul Max:
What is the recommended dosage?
Are there any side effects?
No side effects, however do check the ingredients and correlate with your own allergy history.
Will it interact with my other medications?
Just because Ayurvedic products contain natural herbs does not mean that they won't have any interactions. Hence, it is very important to pay attention to the ingredients list which can be found on the back of every product and also on the product images. Please check them against your current medications. Also kindly consult your physician.
When should I stop taking it?
Depending on your symptoms, most likely after 3-6 months,
Do consult with your physician.
Can I get a complete list of ingredients?
Absolutely: Guggulu , Triphala , Ashwagandha , Maharasnadi kwath Ghan, Nishoth, Haridra, Purified Shilajit, Nirgundi, Trikatu, Jaiphal, Lavang, Gum acacia, Sodium Benzoate
How long will it take to reach me?
Because we have a ficility in the U.S., shipping can take as little as 2-3 days. For other destinations as much as 7 days.
Quickly

works on the swelling

and redness.
~ Flora C, USA

30-day moneyback guarantee
We stand by our quality but also understand, our products aren't right for everyone.
If for any reason, you're not completely satisfied, drop us an email and we'll make it as easy as possible to refund your money in full.

Fast shipping
Our products are all sourced from India, the birthplace of Ayurveda. But rest assured, we have a warehouse in the U.S. so you'll have your package in 3-5 working days if not sooner.
For other regions, your products will arrive in about 7 working days, if not sooner.
Quality products always delivered
on time from India to Ireland.
~ Bernard A.